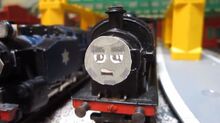 Clay (short for Clayton) is a crotchety old saddle tank engine.
---
CHARACTER HISTORY
---
Clay was the first and oldest Engine of the Waterdown Railway and helped build most of the railway alongside Mr Traverse's Grandfather and Creed.
---
CHARACTER PERSONA
---
Clay is typically a very stubborn old tank engine who constantly rattles on about how things were much better in the olden days. Because of this he, unintentionally, gets on the other engines nerves, particularly Cojak, and upon them teasing him about the olden days will typically get annoyed. Clay also sometimes overestimates his performance. Despite this Clay is a hard working Tank Engine with a good heart and will always try to offer advice to the younger engines.
---
LIVERY
---
Clay is painted in a BR black livery
---
BASIS
---
Clay Is based on a GNR J52 0-6-0 Shunter One Of The Engines Was Preserved
---
APPEARANCES
---
Specials
---
Voice Actor
---
Haydn: Public Enemy onwards
---
TRIVIA
---
Ad blocker interference detected!
Wikia is a free-to-use site that makes money from advertising. We have a modified experience for viewers using ad blockers

Wikia is not accessible if you've made further modifications. Remove the custom ad blocker rule(s) and the page will load as expected.