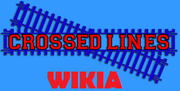 Welcome to the Crossed Lines Wikia
Edit
As of 2014, the fan series 'Crossed Lines' created by 'halfbakedhex8' has proved to be a success among railway and fan series lovers. As I am completely aware, a lot of people have wanted to contribute to the success of this amazing series. This is why this wikia was created, so people can share their views and to keep Crossed Lines fans everywhere up to date on current events.
I hope you enjoy your visit here.
Episode Links
Edit
Episode 1: Public Enemy
Episode 2: Down The Drains
Episode 3: From Dusk Until Dawn
Episode 4: Going Haywire
Episode 5: Nightmares
Episode 6: The Mail Bag Snag
Episode 7: Rebel Iron
Episode 8: Kindred Spirits
Ad blocker interference detected!
Wikia is a free-to-use site that makes money from advertising. We have a modified experience for viewers using ad blockers

Wikia is not accessible if you've made further modifications. Remove the custom ad blocker rule(s) and the page will load as expected.