Dev Khan

Vital statistics

Gender
Male
Position
Prototype Engine
Built
late 1970s - early 1980s
Class
Senitel Electric Mix Traffic Engine
Status
Scrapped

Physical attributes

Configuration
0-8-0
Tractive Effort
Weight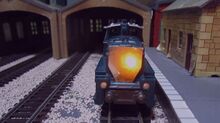 Dev Khan is an electric engine who came to the railway as an experimental prototype to electrify the line. However, he quickly turned on his creators and attempted to end the railway. Fortunately, he was stopped by Atlas and ended up destroying himself by blowing up a generator.
---
CHARACTER HISTORY
---
Development for the Carousel Couriers Administration Allocation 1 (shortened to Dev Khan 1) was developed in a partnership with the Carousel Couriers and Synergy with the intended purpose of experimenting with electric power. With a goal of "improving railway efficiency", he first met the engines under sometimes suspicious circumstances before plotting against them. He begins to cause accidents on the line by hacking into control, and demonstrates the ability after being confronted by Zebedee about the accidents to escape. His control of the system eventually pushes the railway close to breaking its promise for on time trains, until Atlas manages to get one train through. In a bit of rage, he attempted to destroy Atlas but ended up damaging himself in the confrontation. He is then destroyed in an explosion when sparks from his interface ignite a power generator nearby.
---
CHARACTER PERSONA
---
Dev Khan was a robotic entity that showed little emotion in the beginning until he begins to plot against the railway. He also rebelled against the control of everyone, going rogue from the watch of the railway and Traverse.
---
LIVERY
---
Dev Khan was painted blue with red wheels.
---
BASIS
---
---
APPEARENCES
---
Specials
Merry Christmas Lines (Cojak's Story)
---
Voice Actor
---
Daniel
: Going Haywire only
---
TRIVIA
---
---
GALLERY
---