The Tatlo-on-the-Green Rail Disaster occured on the Masonry Bridge Railway near Tatlo-on-the-Green railway station. A goods train, pulled by Class 37 37130, crashed at speed into another goods train occupying the same line. The wreckage blocked the adjacent line, and was struck a minute later by a special express passenger train, pulled by Masonry Bridge #2, The Atlas. It is one of the worst train accidents to occur on the Masonry Bridge Railway in it's history.
Collision
Edit
During the evening hours, a local goods train, pulled by Masonry Bridge #1 Ember, stalled outside of the station in the goods yard. After attempts by the driver and fireman to move the engine, they ran back to the nearby signal box. Although the signalman switched the signal to danger, a fast goods train, pulled by Class 37 37130, collided into the rear of local goods. The collision destroyed the brake van and scattered wreckage around the yard, before the diesel collided with a large GWR 6100 Prairie Tank nearby. Several moments later, the express train, which was the final steam hauled express on the Masonry Bridge Railway, raced around the curve. Despite warnings from nearby, the engine, Masonry Bridge #2 Atlas, was unable to stop. The engine colided with the wreckage of the first collision and tilted over and landed on its right side while the first coach landed on its left side.
Aftermath
Edit
The first emergency response arrived several minutes later and attended to the injured on board the passenger train and the crews. Members of Killian Hargraves' family lost their lives on the express train, along with an unreported number of injuries. The Class 37 and Prairie Tank were scrapped on site while both Atlas and Ember were taken back to Masonry Bridge. After Atlas was taken away from Masonry Bridge, the engine was listed as scrapped in the power listings. Ember was sent to the scrapyard after Atlas' departure.
Engines involved
Edit
Masonry Bridge #1 Ember (lightly damged)
Masonry Bridge #2 Atlas (severely damaged)
Class 37

(destroyed)

GWR 6100 Prairie Tank (destroyed)
References
Edit
It's formal name is only mentioned once by Whistler during the series.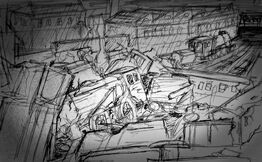 Rendering of the accident scene. The Atlas can be seen in the foreground while Ember is in the background.